I am Andre Nogueira, the Co-founder and Deputy Director of the Design Laboratory at Harvard T.H. Chan School of Public Health, where I also hold the position of Research Scientist and Instructor for the Department of Health Policy and Management. I am curious about life in general and interested in exploring how design frameworks and methods might support the well-being of people, organizations, and the ecosystems they live.
My work has been funded by diverse organizations, including the Bill and Melinda Gates Foundation, The Kresge Foundation, US Fish and Wildlife Services, Chicago Community Trust, and USAID. Some of these projects have been awarded by Fast Company and Core 77. Throughout my journey, I have helped leaders across sectors and industries expand their perceptions about challenges – and opportunities – in front of them.
I have been an entrepreneur, creating and leading a design studio working across scales and sectors, and an intrapreneur in the corporate world and in academia. In the corporate, I helped organizations build their sustainability capabilities. In academia, I have helped institutions in the US and Brazil build design laboratories that expanded their capacity to bridge theory and practice through cross-sectorial partnerships.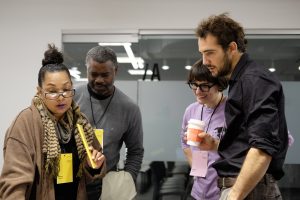 Combined, these experiences brought me several awards, including being the only designer in the first 40 under 40 Public Health Catalyst Awards by the Boston Public Health Congress. Today, I conduct and publish solution-oriented research projects and work with corporate senior executives and leaders in the social sector across the globe interested in building design capacity within their organizations. I also teach design, mentoring graduate students and faculty from multidisciplinary backgrounds, including public health, public policy, business, public administration, design, and education.
Before moving to the U.S., I worked on organization design, sustainable development, entrepreneurship, intrapreneurship and business strategy, and urban and architectural design in Brazil and Mexico. I currently hold a Ph.D. in Design from the IIT Institute of Design, where I helped conceptualize and prototype the Action Lab, creating and leading its pilot projects. I also hold a Master's in Geography, Cities, and Architecture from Escola da Cidade, and an MSc. in Contemporary Urban Planning and a dual major bachelor's in Architecture and Urban Design from the Universidade Presbiteriana Mackenzie, where I helped conceptualize and manage a Design and Public Policy Lab.